Da wir sehr oft gefragt wurden nun die einmalige Gelegenheit:
eine von wenigen Uniformen in der Größe 44
in dieser Größe waren sehr wenige Uniformen hergestellt worden und sind sehr gesucht da sie auch ausgewachsenen Männern passen.
Diese ist die einzige Comand Uniform in der Größe 44 die wir in unserem Fundus zum Verkauf haben und der Zustand ist mit minimalen Einschränkungen absolut neuwertig wie es besser nicht geht, da die Uniform speziell für diesen Schauspieler angefertigt wurde und wenig getragen ist. Es ist eine der letzten Uniformen die für Voyager hergestellt worden sind.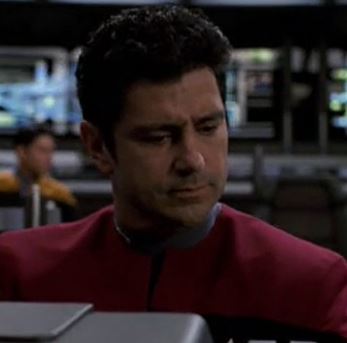 Die Uniform ist aus dem Paramount Fundus verkauft worden hier die original Beschreibung von IAW:
STAR TREK: VOY "LIEUTENANT (J.G.) AYALA – COMMAND RED MAQUIS STARFLEET UNIFORM"
A costume featured in various episodes of Star Trek: Voyager for wear by Tarik Ergin in his portrayal of "Lieutenant Ayala". This costume consists of a black jumpsuit with Command red division colors around the shoulders, sewn in 'away team' gear loops at the waist, an elastic waist with an interior belt, and a sewn on patch on the left breast for a commbadge (sold separately). Included does a gray sleeveless undershirt with a pair of metal Maquis rank snaps for an accompanying metal provisional Starfleet rank badge. Both garments feature sewn in Voyager tags that read 'Tarik Ergin', and the costumer's tag reads 'Tarik Ergin, red Maquis' and is stamped 'Voyager'. The Metall Rang indicates the wearer to be a 'lieutenant (junior grade)' and depicts a two bar badge with one bar blacked out.
mehr Details auch auf memory Alpha
memory-alpha - wiki /Ayala
Die Uniform kommt mit dem Original sehr seltenen Rankpin des Characters
und ist in der gesuchten Comander Farbe rot.
der Preis liegt bei 2400 Euro und wird mit Echtheitszertifikat und einem passenden Replica Communicator geliefert.
nähere Infos auf Anfrage.
for more details send us a email